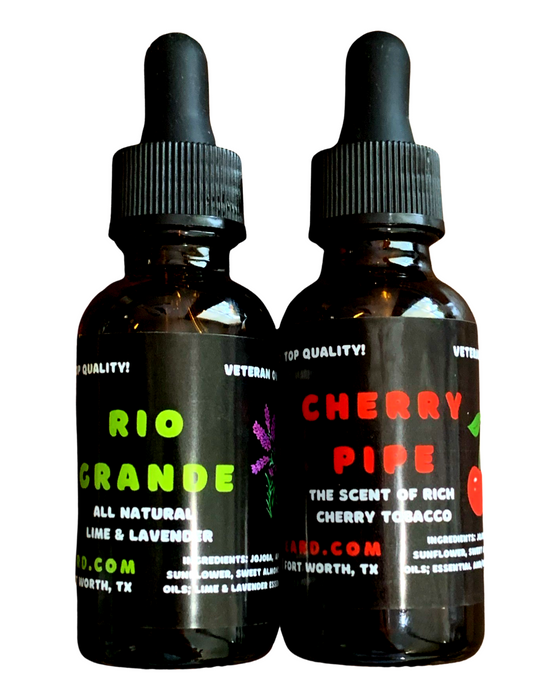 SUMMER SPECIAL - 2 Special Oil Blends
Sale
Sale
Original price
$40.00
-
Original price
$40.00
Introducing the refreshing and aromatic Two Pack Beard Oil Summer Special of Rio Grande and Cherry Pipe! This special edition is designed to enhance your grooming routine and provide a delightful experience for your beard during the sunny summer days. The pack consists of two unique scents: Rio Grande, comprised of Lime & Lavender and Cherry Pipe, with the enticing scent of Cherry Tobacco.
The Rio Grande beard oil is a perfect blend of zesty lime and soothing lavender. The vibrant and invigorating aroma of freshly squeezed limes uplifts your senses, while the calming essence of lavender brings a touch of tranquility. This combination creates a refreshing and revitalizing scent, perfect for the summer season. Not only will your beard feel nourished and conditioned, but it will also exude a captivating fragrance that lingers throughout the day.
The second scent in this special edition pack is Cherry Pipe, which captures the essence of aromatic cherry tobacco. The rich and distinctive scent of cherry tobacco evokes a sense of nostalgia and sophistication. It combines the sweet notes of ripe cherries with the smoky and warm fragrance of fine pipe tobacco, resulting in a captivating and alluring aroma. With this beard oil, your beard will not only look well-groomed but also emanate a captivating scent reminiscent of a gentleman's study.
Both beard oils in this two pack are carefully crafted using premium ingredients to provide optimal nourishment and hydration to your beard and the underlying skin. They are formulated to moisturize your facial hair, promoting a healthy and well-conditioned beard while also soothing the skin beneath. These oils are lightweight, non-greasy, and absorb quickly, ensuring a comfortable application and leaving your beard feeling soft, manageable, and rejuvenated.
The Two Pack Beard Oil Summer Special of Rio Grande and Cherry Pipe scents offers a perfect balance between freshness and sophistication, making it an excellent addition to your grooming routine. Treat yourself to the invigorating and captivating aromas of this special edition, and enjoy a nourished, fragrant, and stylish beard throughout the summer season.