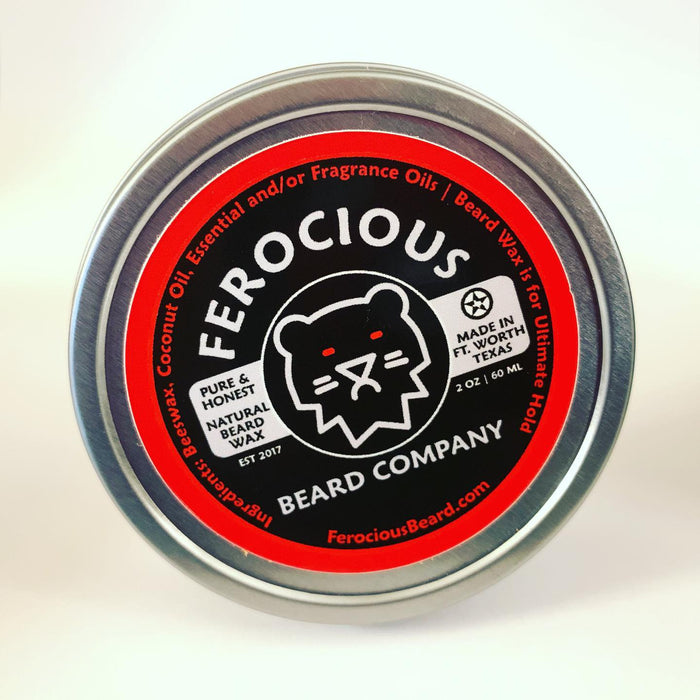 Beard & Mustache Wax 2 oz
Sale
Sale
Original price
$19.99
-
Original price
$19.99
ON SALE THROUGH OCTOBER 29, 2023. SAVE $4
Beard & Mustache Wax- Tired of getting mustache hair in your mouth while you're eating?  Need to tame your flyaway beard hairs?  No problem!  Our Ferocious Beard & Mustache Wax provides strong hold when you need it and is unscented so it won't interfere with whatever oil or balm you're wearing on your beard. (We recommend using oil or balm first, then applying the wax.
  You'll need a strong thumbnail to scrape the wax from the tin.  Once on your thumbnail, transfer the product to your palm and rub both hands together to let the wax emulsify. Then apply to your glorious beard.  Apply as much as you require, and groom as desired.
"A MUST HAVE Product!" - Beards & Banjos!
"Best beard wax in the game" - Caleb L.
"This is one of those products that should be in everyone's toolbox". -Beards & Banjos
Ferocious Beard & Mustache Wax is 100% natural and contains Beeswax & Coconut Oil.