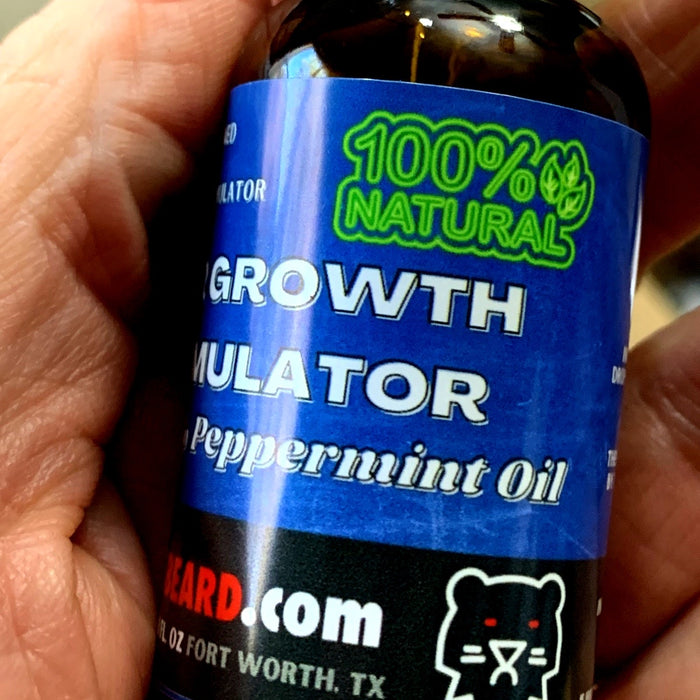 Natural Beard & Mustache Stimulator
Sale
Sale
Original price
$19.99
-
Original price
$19.99
 Ferocious Beard & Mustache Stimulator is designed to help stimulate skin under your beard naturally, leading to better blood circulation, which may* lead to healthier, fuller and faster hair growth.  A lab study** applied to lab mice comparing 3% Peppermint Essential Oil (PEO) to Jojoba Oil (JO), Saline (SA), and 3% minoxidil (MXD) shows the following:
Of the 4 experimental groups, PEO group showed the most prominent hair growth effects; a significant increase in dermal thickness, follicle number, and follicle depth. ALP activity and IGF-1 expression also significantly increased in PEO group. Body weight gain and food efficiency were not significantly different between groups. These results suggest that PEO induces a rapid anagen stage and could be used for a practical agent for hair growth without change of body weight gain and food efficiency.
Image showing actual results on tested mice:
NOTE: Please test this product in a small area to be sure you do not have an adverse reaction to this product.  Peppermint Essential Oil is a strong natural oil, and you may experience a tingling feeling which is absolutely normal for a 3% formula.  However, the product should not burn or otherwise irritate your skin. If you experience adverse reaction, discontinue use immediately.
INSTRUCTIONS FOR USE:
1. Be sure to clean face, including beard and mustache areas for which you are attempting growth.  We recommend Ferocious Peppermint Beard Wash.
2. Apply Ferocious Beard & Mustache Stimulator to areas in which you are trying to stimulate growth. We recommend a small amount initially until you are comfortable with the strength of the Stimulator. The goal is to spread the Stimulator across the entire area that you are trying to grow. Consistency is important, so Ferocious recommend using this product daily for approximately 4 weeks.
Although Ferocious Beard Company cannot guarantee this product will work for all hair types, the laboratory results are certainly impressive!
*This statement has not been evaluated by the Food and Drug Administration. This product is not intended to diagnose, treat, cure, or prevent any disease.
**Study showing that Peppermint Essential Oil Promotes Hair Growth.
Download full PDF of the test here.
Popular Beard Expert and YouTube Influencer Dan C Bearded published a video in May 2021 about the benefits of Castor Oil & Peppermint Oil referencing the same study as listed above.  If you have not yet done so, please give Dan a follow on his YouTube Channel! Please note that Ferocious Beard Company does not have a professional relationship with Dan C Bearded, but we do appreciate his love of all things beard related.