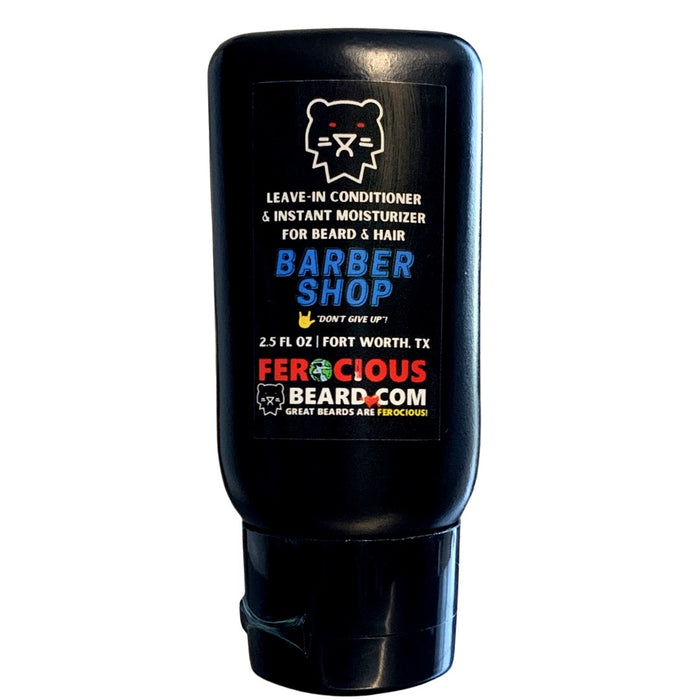 Leave In Conditioner & Instant Moisturizer for Beard & Hair - Unisex
Sale
Sale
Original price
$21.99
-
Original price
$21.99
Ferocious Beard Leave-In Conditioner & Instant Moisturizer is absolutely perfect for those beach or pool days, hiking, camping, or working in the yard and you need to add instant moisture to a dry beard (or hair).  Ferocious Beard Leave-In Conditioner & Instant Moisturizer is not greasy at all.  It goes in easily and works very well to de-tangle your beard or hair. 
What makes it amazing?  In a nut-shell, this product is super useful for a variety of reasons. Just look at the benefits of each ingredient below for details!
Just apply a small amount for an instantly moisturized beard or ultra soft hair.  Comb or brush if desired.
Plus, if you have a beard, this is a leave-in conditioner which means it can completely replace your nightly beard butter routine if desired, or add additional moisturization before adding beard butter.
Scent Profiles:
Barbershop - Clean, Fresh, Talcum Powder
Clean Citrus

 

- Fresh Herbal Citrus Blend
Havana Getaway - Warm Tobacco, Rich Bourbon
Dragon Blood - Mystical, Earthy, Fruity
Fetish - Smoke, Clove, Leather, Embers
Friday Night

 

- 

Peppermint, Tea Tree, Orange & Cinnamon

Lone Wolf - Spicy, Clean, Cologne
Naked - Unscented
Orange Cream Pop - Fresh Orange, Smooth Vanilla
Pineapple & Sweet Oud

 - Pineapple & Sweet Oud Wood

Purple Haze

 

- Fresh Blackberry, Rich Tobacco
Savage - Deep Cherry, Warm Leather
Sublime - Fresh Lime, Verbena, Coconut
Ferocious Leave-In Conditioner & Instant Moisturizer contains excellent ingredients for your beard or hair.
Aloe Vera Juice: Excellent moisturizer which also sooths your beard.
Rosemary: promotes accelerated hair growth and delays appearance of gray hairs.
Behentrimonium Sulfate: A non-sulfate derived from rapeseed oil. Penetrates hair to moisturize and condition and excellent for detangling hair.
Cetearyl Alcohol: An emolient used to soften skin and hair as well as thicken and stabilize products. Sooths and heals dry skin.
Sunflower Oil: Helps beard and hair retain moisture, calms dandruff.
Black Castor Seed Oil: Moisturizes, thickens, strengthens and rapidly increases hair growth. Will also prevent hair breakage.
Sweet Almond Oil: Creates a smoothness & slip that helps separate hair strands to prevent excessive friction and hair loss. Also helps with hydration.
Trace amount of Phenoxyethanol: Used as a preservative, stabilizer and an anti-microbial ingredient.
Ethylhexylglycerin: A gentle preservative that improves skin hydration and helps other ingredients help penetrate into your skin.