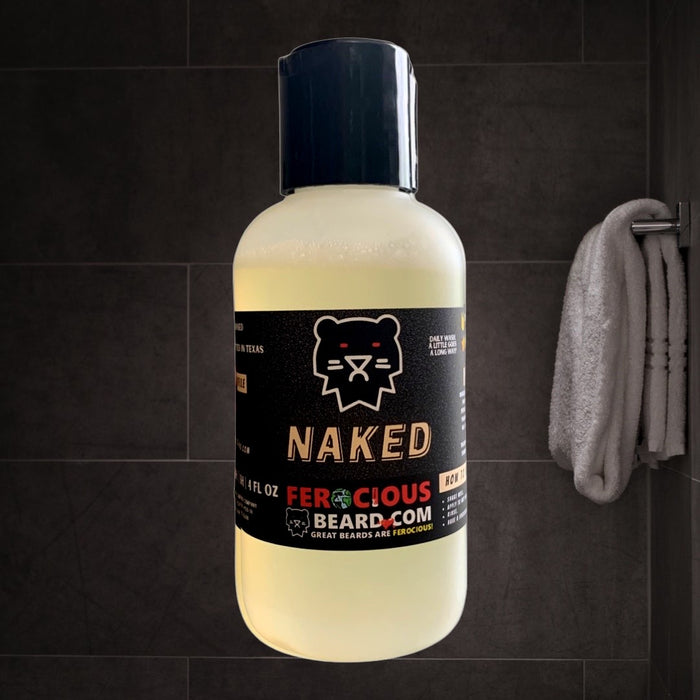 Sale
Sale
Original price
$20.00
-
Original price
$20.00
Product Information
Our Castile Soap Liquid Wash is a simple natural liquid castile based soap product enhanced specifically by Ferocious Beard Company to clean and moisturize your beard hair. In fact, our product is so good, you can safely use it every day to wash your beard!
Our 4 oz Castile Soap Liquid Wash lasts a LONG TIME and will last at least as long as most companies 8 oz bottles, due to the fact that you don't need much to suds up and clean your beard.  One user reports he is still using it daily for almost 9 months.  Only a little bit is required. When I use it, a bottle lasts me approximately 2 months.
Check out this video review of how our Castile Soap Liquid Wash works in action! Skip to 1:26 to go right to the beard wash formula review)
Normal shampoo can be very harsh on a beard, and it tends to strip away natural oils from your beard, and dry out the skin under your beard.  Our Castile Soap Liquid Wash provides beneficial moisturizers to your beard and skin below your beard and a gentle cleansing action with lots of suds that quickly rinse away.  You'll be getting a hefty 4 oz bottle, and a little bit goes a long LONG way!
Instructions: 1. Shake bottle. 2. Place nickel sized amount into palm & apply to wet beard hair and lather. 3. Rinse.  4. Done.
Our
Castile Soap Liquid Wash consists of liquid castile soap (Water, Organic Coconut Oil, Potassium Hydroxide, Organic Palm Kernel Oil, Organic Olive Oil, Organic Hemp Oil, Organic Jojoba Oil, Citric Acid, Tocopherol), Glycerin, Natural Essential Oil or Fragrance Oil