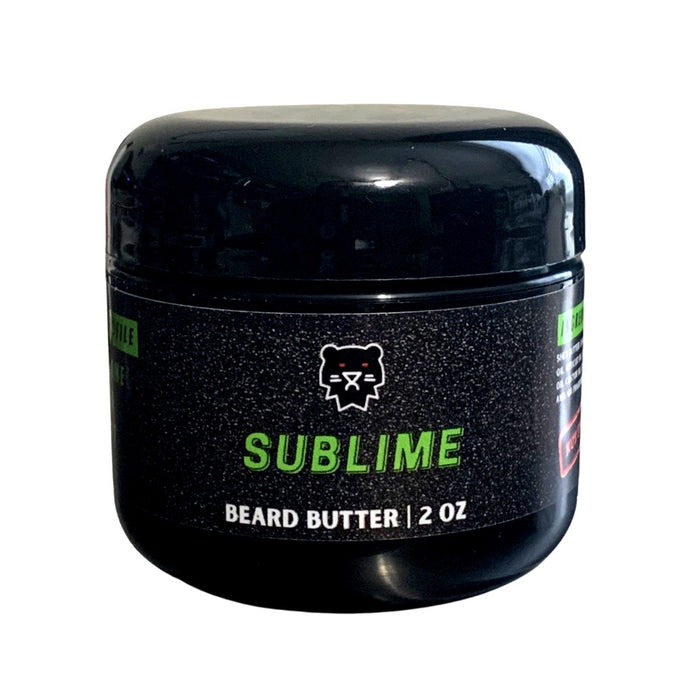 Sublime Butter - Luscious Coconut Lime Verbena with an Extra Splash of Fresh Lime For A Tropical Treat for Beard & Body.
Sale
Sale
Original price
$21.99
-
Original price
$21.99
Introducing Sublime, a scent that captures the essence of a tropical paradise with its luscious blend of coconut, lime, and verbena. This fragrance is perfect for those who want to feel refreshed, revitalized, and transported to a world of exotic beauty.
Sublime is crafted with a unique blend of notes that come together to create a scent that is both refreshing and invigorating. It features a top note of zesty lime, followed by a heart of creamy coconut, and finished with a base of fresh and zingy verbena. The combination of these notes creates a scent that is both light and refreshing, perfect for anyone who wants to feel revitalized and energized.
Designed to transport you to a world of exotic beauty, Sublime is the perfect fragrance for any occasion. Its long-lasting formula ensures that you'll smell amazing all day long, while its fresh and zesty aroma will keep you feeling refreshed and rejuvenated.
Sublime is the perfect fragrance for anyone who wants to feel refreshed, revitalized, and transported to a world of exotic beauty. Experience the luscious scent of Sublime, and embrace the beauty and energy that comes with it.
Ingredients

Ingredients in Beard Butter

Shea Butter - great for for itchy, flaky and irritated skin under the beard; its anti-inflammatory properties reduce dryness and treat potential skin damage. This will add moisture and shine to your beard.

Lanolin - a waxy substance derived from sheep. Its an emollient and will soften and smooth the skin under your beared, and its conditioning properties make it an effective ingredient in combating dry skin and beard hair.

Sunflower Oil- Great source of Vitamin E; rich in antioxidants; combats acne, redness and irritation of the skin; emollient properties help skin retain moisture.

Apricot Oil- contains Vitamin A & E.  This oil is useful for oily complexions, helps rehydrate dry skin, and soothes rough damaged skin as well as relieves skin itch and irritation.

Jojoba Oil- pronounced as Hohoba Oil), not technically an oil, but more of a liquid wax which mimics the natural oils found in your own skin and helps moisturize the skin under your beard.

Castor Oil - contains ricinoleic acid which literally is absorbed into each individual hair strand and provides nourishment from the root, leading to the promotion of hair growth, thicker hair strands, and hair follicle enhancement

Natural and/or Fragrance Oils (depending on the scent you choose)
Shipping & Returns

Orders are typically fulfilled within 1-3 business days which are Monday through Friday. Custom orders may take 3-5 business days. US Shipping is $6.99. Orders $69+ ship FREE!

Shipping is via USPS First Class or Priority Mail and delivery times may vary depending on your location. DHL is our shipping vendor for orders outside of the US.

Ferocious does not accept returns, however we do guarantee your 100% satisfaction or your money back (minus shipping). Issue? Contact Us!
Care Instructions

Scoop out a thumbnail-sized portion and rub into your hands. Apply to your beard. Use a comb or brush to distribute into your beard and groom.
This Beard Butter could be $14.30 when you join the Ferocious Beard Club. Click for More Information.

Join the Ferocious Beard Club and save 35% using Code CLUB for an entire year. Membership is just $20 and you can join here.